Project Number: GOP-2.2.3-09-2009-0120
Project Name
Introducing a complex managing and electronic trading system for Router Networking Ltd.
Beneficiary name and address
ROUTER Networking Ltd. H- 1112 Budapest, Botfalu u. 7.
Contribution organization name and address
MAG- Magyar Gazdaságfejlesztési Központ Plc. 1539 Budapest, Pf. 684.


Nemzeti Fejlesztési Ügynökség (Hungarian National Development Agency)
Magyar Gazdaságfejlesztési központ (Hungarian Economy Development Centre)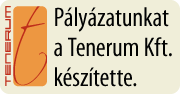 Our tender was made by Tenerum Ltd.